YOGA:
A.M. Yoga
 For the morning person! A Hatha Yoga class that will help you start off your day with a sense of relaxation and well being. Open to all levels.
Hatha Yoga 
 Developed over 5000 years ago, by the sages in India, this system includes physical postures and breathing practices that develop balance, flexibility and a relaxed state of mind. The fluid, graceful exercise helps develop muscle tone, flexibility, coordination, balance, breath control, and deep relaxation.
Introduction to Yoga
 Taught in the Iyengar Method, this is an introductory class for students new to Yoga. Learn basic yoga postures in a clear, safe and practical manner. Iyengar Yoga emphasizes proper alignment and adheres to classical principles outlined in the Yoga Sutras of Patanjali.
Intermediate Hatha/Vinasa Yoga
 In this intermediary level class we will practice many different variations of the first, second and third series of sun-salutation [Surya Namaskara]. We will deepen our seated, twists, standing/arm balance, back/forward bends and inversions.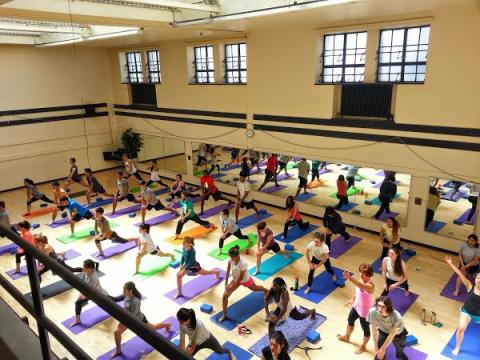 I will encourage the development of individually designed sequences for the strengthening of a practice that will meet your particular needs. Ultimately, we will aim at the union of body/mind, light/strong body, and a calm mind. Alex is a Yoga Alliance registered teacher trained at Hale Kai Center for Yogic Studies in the areas of Asana, Anatomy, Restorative, Pranayama, Meditation, Philosophy and Subtle Energy. For more info: www.yogactivism.com
Introduction to Hatha/ Vinyasa Yoga 
This class combines the foundational alignment of B.K.S. Iyengar School; and the fluidity of Sri K. Pattabhi Jois. This combination produces a middle ground between Ashtanga and Vinasa. We will practice the principles of synchronicity between movement and breath as well staying with poses for a few breaths. Ultimately, we will aim at the union of body/mind, improvement of circulation, a light and strong body, and a calm mind. This class will also be offered at an "Intermediate" Level as well.
Vinyasa Yoga
Vinyasa is a vigorous Yoga style, based on a series of poses performed in rapid dance-like flow. Attention is given to connecting each movement to the breath. Previous Yoga experience is recommended for this class, which will enhance the awareness of the body and its movements.
Kundalini Yoga 
General Kundalini Yoga Class consists of Breathing Exercises, Warm-Up's, Kriyas
(specific set of exercises for a specific effect), Chanting, Relaxation, Meditation.
Introduction to Ashtanga
This class derives its foundational sequencing from Ashtanga yoga, as developed by Sri K. Patabi Jois. Ashtanga is a form of Vinyasa, a fluid practice of linking one posture to next and the breath to each movement. The use and control of the breath (pranayama) is emphasized in this vigorous practice as it leads the practitioner to a deeper level of concentration and discipline. This class will include many of the asana (postures) of the primary and secondary series but will also allow for the use of props and modifications in order to ensure that the practice is accessible to all students interested.