The Adrian C. "Ace" Israel Fitness Center is a gift of the Israel family commemorating Adrian Israel's love of athletics and of Yale University. Located on the fourth floor of Payne Whitney Gym, the Israel Center has 20,000 square feet of space dedicated recreational fitness and to strength and conditioning for varsity athletes.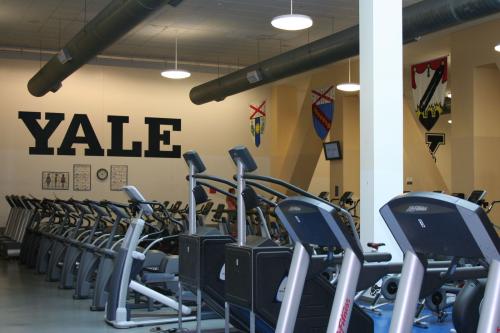 The Center is divided into three adjoining areas:
Cardiovascular Fitness:  This area has a multitude of cardio machines available for use, including treadmills, stair climbers, ellipticals, upright and recumbent bicycles, and rowing machines. A 40' X 40' skylight highlights the cardio area, and this space is accented by the flags of Yale's fourteen residential colleges.
Weight Training: A 7,000 square feet area with Cybex weight training equipment and free weights. The entire east wall of this space is mirrored, and banners of Yale's many graduate/professional schools hang proudly throughout the space.  
Varsity athletes:  (7,000 square feet) The Brooks/Dwyer Center is dedicated for varsity athletic use for preseason and in-season conditioning. There is a great deal of free weight and specialty weight training equipment in this space, which is accented by Yale logos and with the flags of Yale's seven Ivy League opponents.