The Yale Bulldog Sports Camp home base is the Payne Whitney Gymnasium, one of the world's largest sports facilities. The camp is designed to promote individual development and to guide youngsters through exciting sports and recreational activities. Planned indoor sports include basketball, swimming, ping-pong, volleyball, squash, gymnastics, yoga and rowing.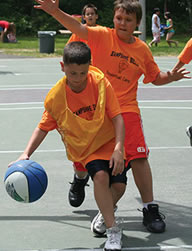 Additionally, campers are transported once a week to Yale's athletic fields for participation in soccer, baseball, tennis, golf, field hockey, lacrosse, kickball, and tug of war. On most Wednesdays the group travels to the Outdoor Education Center in East Lyme, CT. This trip provides ample opportunities for swimming, fishing and other water activities. Additional exciting day trips may be scheduled. Lunch will be provided 5 days a week.
For more information, 

please contact Carlos Pinela

(203) 432-2488.