OUTDOOR EDUCATION CENTER IS CLOSED FOR THE 2016 SEASON
 Located on 1,500 wooded acres, the Yale Outdoor Education Center (OEC) is nestled on the south shore of a pristine mile-long lake. There are cabins and campsites to rent, plenty of space to hike or have a picnic, and a clean lake in which to boat, canoe, fish or swim. The OEC is located in East Lyme, Connecticut, just northwest of the quaint, seaside town of Niantic and only 42 miles from New Haven. The OEC is available to all members of the Yale community via membership, day-use fee or rental. Nine rustic lakeside cabins and eight secluded campsites are available for summer rental. Campsites include a grill and picnic table; cabins have a picnic table, grill, and small deck. Rentals are for OEC members only.
A large, H-shaped aluminum dock provides ideal swimming conditions in the lake. Nearby, another dock houses five 12' rowboats and four 15' canoes. Boats may be used during supervised waterfront hours. Lifeguards are on duty from 10:00 am-12:00 pm and 1:00 pm-5:00 pm (weekends until 5:30)
The lakeside Hopkins Pavilion, a large open-air structure with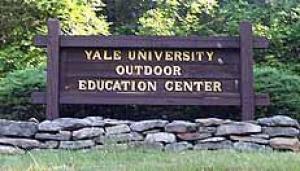 tables and benches, is available for group rentals. A grill and serving area are connected via a breezeway. For a more private atmosphere, the rustic Dining Hall, situated high on a hill, provides a spectacular panorama of the lake from its 24' x 48' deck. Small groups of 12-25 might prefer renting the lakeside Gazebo with large grill and picnic tables.
The group campsite is available for parties of 10-25 persons. This site is removed from our family campsites and contains a fire pit, oversized grill, large picnic tables, and a large, screened-in camp shelter.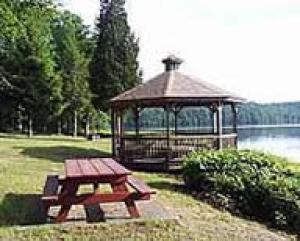 Additionally, the OEC offers a small dressing room, shower house (for overnight guests only), picnic grove with tables and grills, grass and sand beaches, campfire ring, clay volleyball court, horse-shoe pit, small basketball court, field office, and recreation cabin. A spring water dispenser is located in the Pavilion.
Anyone with a valid Yale University ID may pay the day-use fees at the OEC's field office. Seasonal memberships may be purchased at the OEC Office (Payne Whitney Gym, Room 521). Membership includes unlimited use of the OEC on a daily basis and facility rental privileges. The OEC is open from the 2nd or 3rd weekend in June through Labor Day. For more information call the OEC Office at (203) 432-2492.