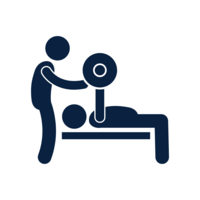 Please Note:  Due to high demand and limited staffing we are currently backlogged with clients. 
Click Here to complete our Personal Interest Form. Information will be reviewed by our team and you will be contacted when a trainer is available. 
Click here to view our Personal Trainer Profiles
New Clients: Please print, fill out and bring this document to your first session.
---
Our Personal Training program is designed for participants of all levels. Personal Training offers participants the opportunity to work with one of our certified personal trainers who will provide customized guidance and instruction to help you achieve your physical fitness and wellness goals. 
Participants can choose from a variety of packages including:
1 on 1 Personal Training
Partner/Buddy Training 
Small Group Training
Personal Training Packages
All of our Personal Training packages start with a free fitness assessment. During the assessment your Personal Trainer will evaluate your current level of fitness and create an individualized workout and training regimen for you. All of this is designed for you to be able to meet your personal fitness goals. Following your initial consultation, interview and body composition reports and analysis, your progress is carefully tracked over the course of your training program with periodic reevaluations to ensure that you are progressing towards your goals. 
 
Fee/Person

1 on 1 Training

(1 Individual per session)

Students session packages starting at $50/session

Non-Student session packages starting at $58/session

Partner/Buddy Training

(2 Individuals per session)

Students session packages starting at $39/session

Non-Student session packages starting at $47/session

Small Group Training

(3+ Individuals per session)

Students session packages starting at $31/session

Non-Student session packages starting at $39/session