What is MyRec?
myrec.yale.edu is the web portal for members of Payne Whitney Gym. This portal allows members to:
How do members access MyRec? 
Currently MyRec is available via any internet browser including on mobile devices. Currently MyRec is available via any internet browser including on mobile devices. 
Download the Mobile App
---
Signing into MyRec
Members with Yale NetIDs (Yale Students and Faculty/Staff) must sign in with your Yale NetID (CAS)

Members without a Yale NetIDs must sign in with your username or email

First time users without a Yale NetID, should enter your email and click the "Next" button then click the "Trouble Signing in?" button to reset their password. If you do not know your username or password, please email pwg@yale.edu for assistance.

Passwords for Non Yale NetIDs (CAS) users must contain: a lower case letter, number, symbol, and must be at least six characters long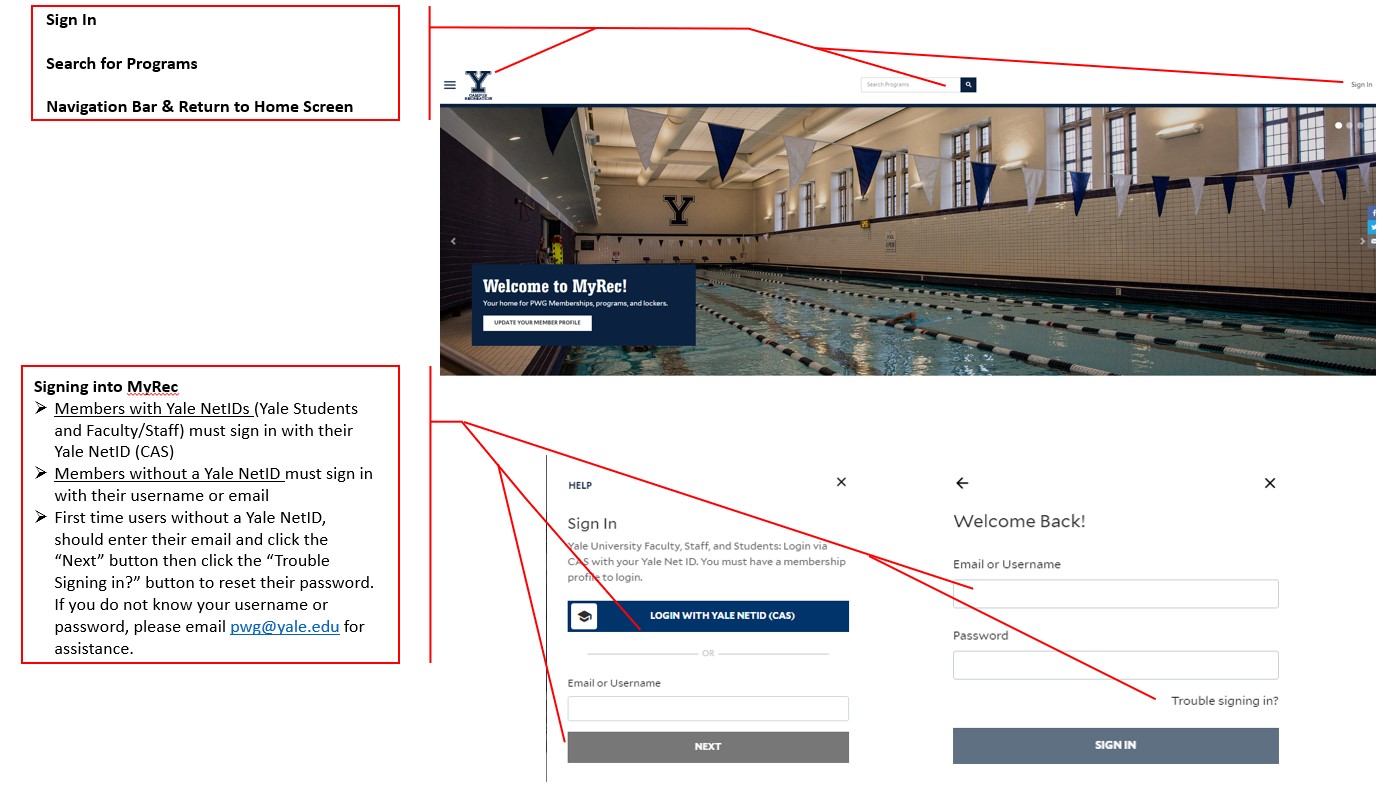 ---
*Members are highly encouraged to enter their Date of Birth on their profile MyRec profile as certain programs are restricted by age (including Group Fitness Classes where members must be at least 16 years of age).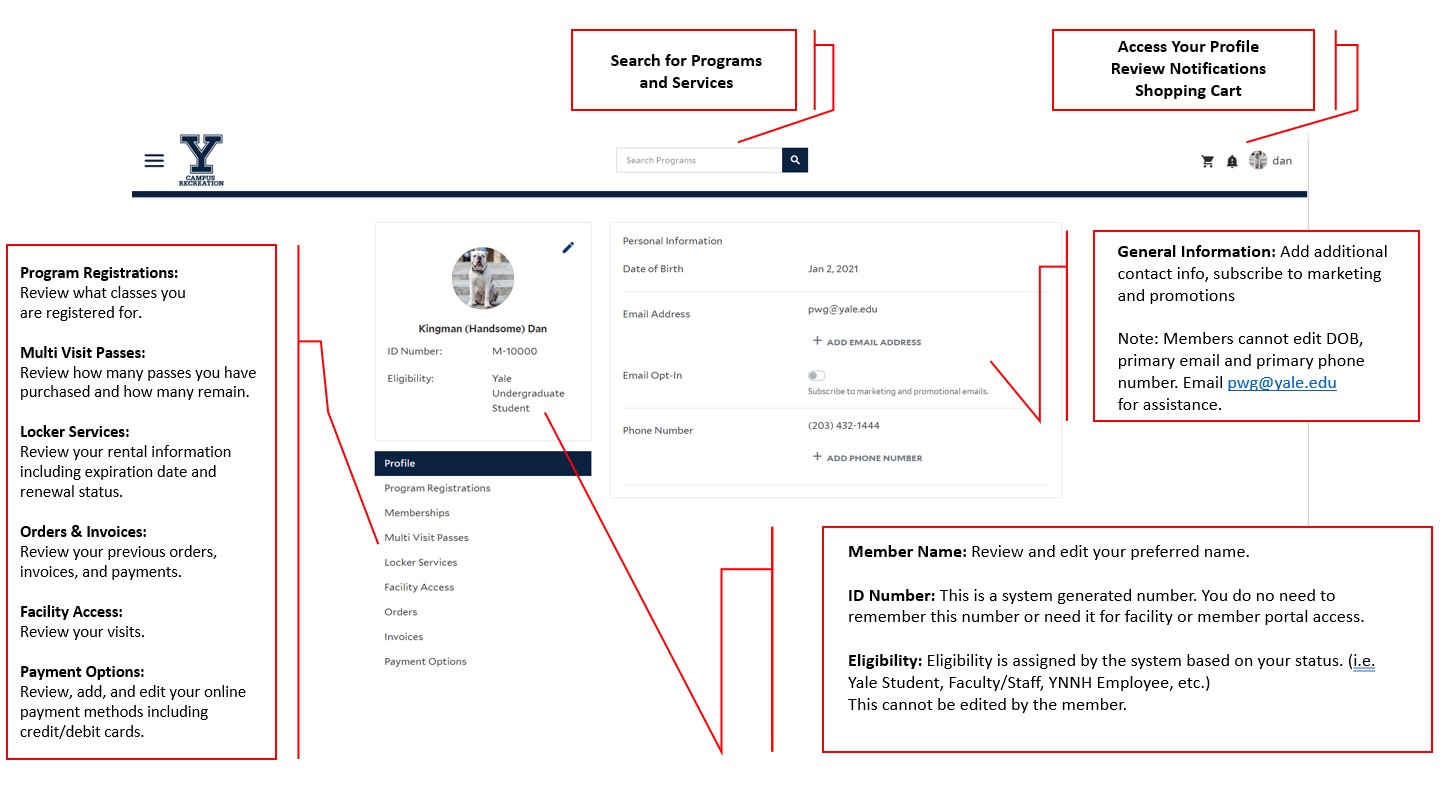 ---
Yale Student Members
Graduate Students: Currently enrolled Yale Graduate Student

Undergraduate Students: Currently enrolled Yale Undergraduate Student, Membership is designated by college
Non-Student Members
"PWGM": Valid PWG Membership

"- XXX –": Membership Type i.e. Yale Faculty & Staff

"PIF": Membership fee is paid upfront and valid thru the expiration date

"Agreement Billing": Membership fee is paid by monthly credit/debit card charge to member's card
​Program Passes & Eligibility 
"PWGP": Program or Service, Member will still require an active PWG Membership to access facility

" – Group Fitness Classes – XXX": Provides access to drop-in group fitness classes. Members may purchase Spin Only, Yoga Only, General Classes Only a combination of each, or All Access for everything.

"- Personal Training – Eligible to Purchase": Designates that the Member has requested and been assigned a Personal Trainer and that they are eligible to purchase Personal Training Sessions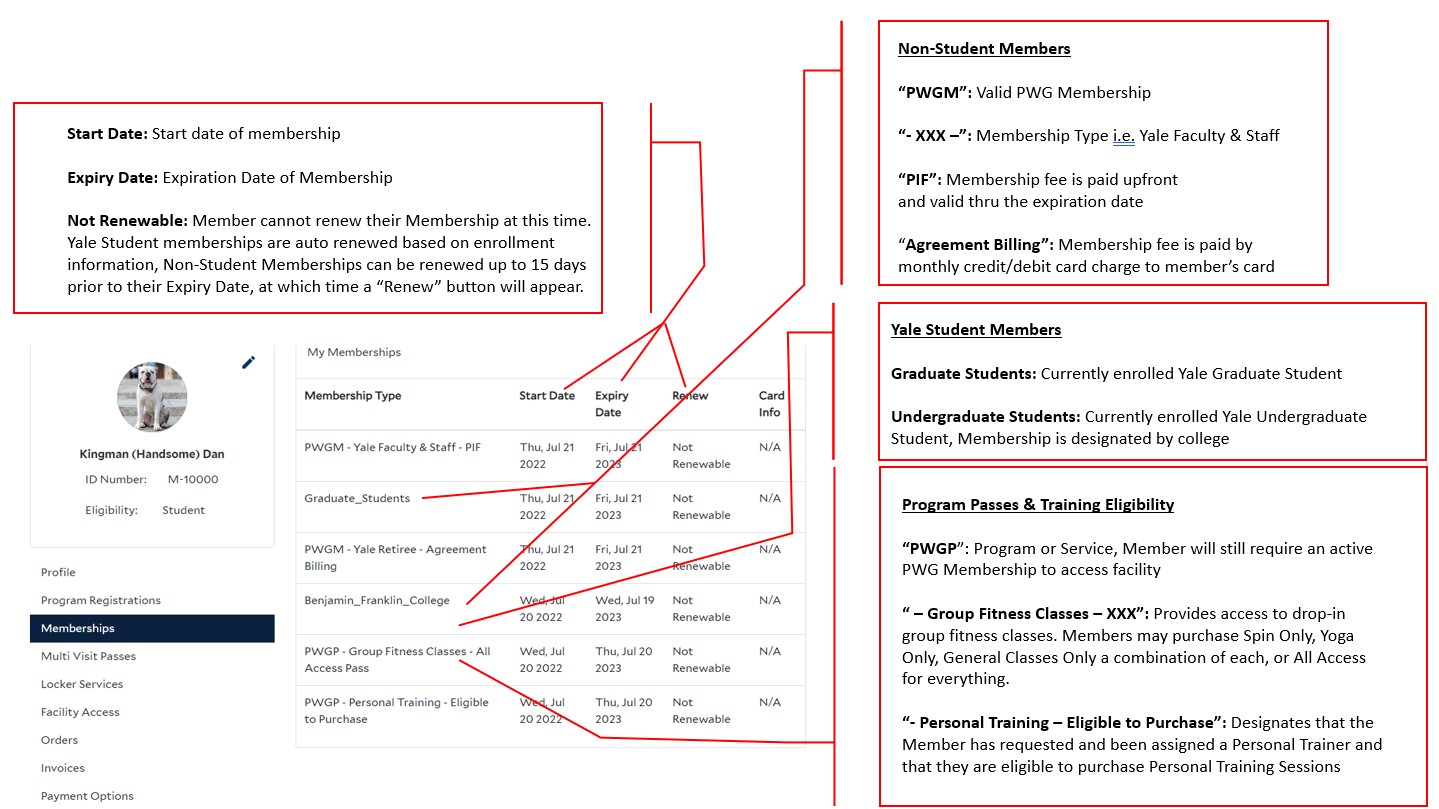 Yale Student Memberships
Students are auto renewed based on their enrollment status.

Campus Recreation receives a daily import/update of students who are approved for PWG access  cannot edit membership status.
Non-Student Memberships
Only current or expired members with a valid Eligibility can renew or purchase a membership

If you do not have a member profile of Eligibility, please Click Here to schedule an appointment with Membership Services

Click on Renew your Membership

Select which membership option is best for you

Choose duration, add to cart and follow steps to purchase
---
Purchasing a Locker Rental
The original issue and sale of the locker must be completed either in-person or over the phone with Membership Services.
Viewing your Locker Information
Viewing your locker information

Locker information can be found under your member profile. Click Here to view your locker information.

Information include locker location, number, and start/end date. Currently, the combination is not available under your membership profile.
Renewing you Locker Rental
15 days from the date of expiration "Renew" button will appear.

If you wish to renew your locker, click the button a follow the prompts for renewal and payment.

Lockers can be renewed from 1-month to 1-year. There is not an Agreement Billing option for lockers.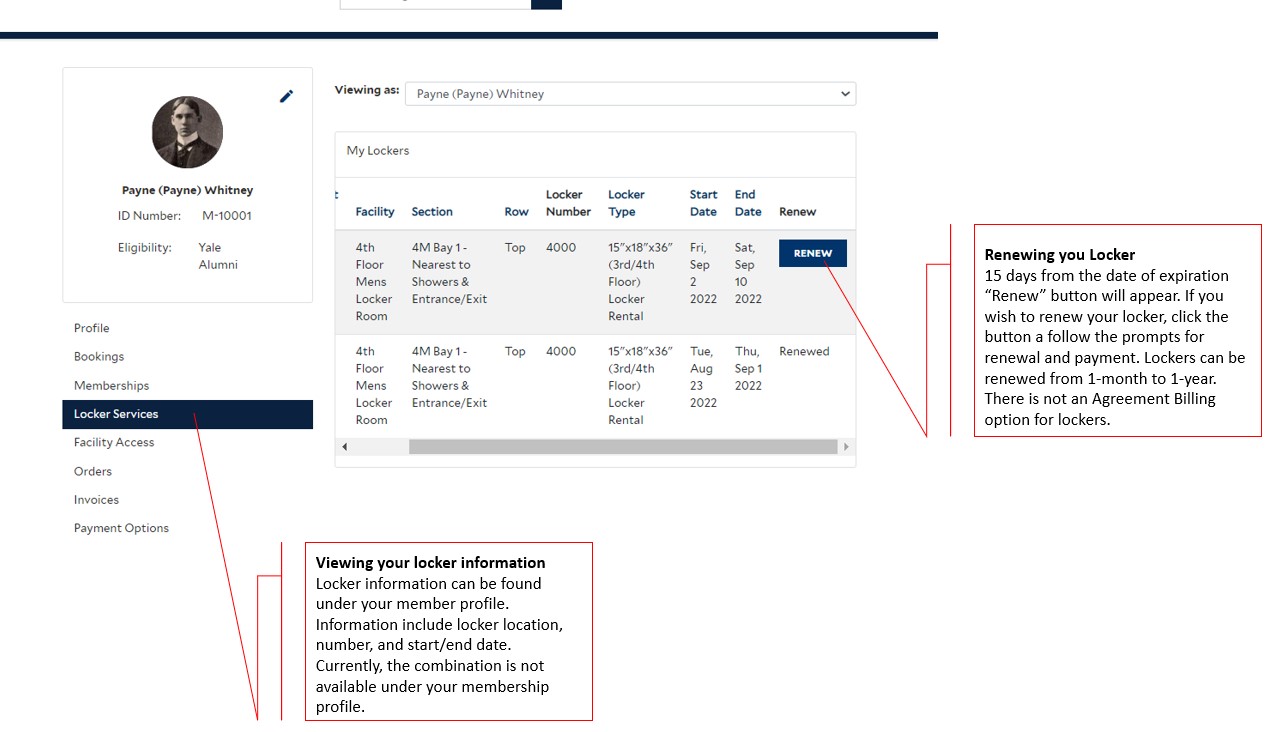 ---
Select Book a Squash Court

Click the squash icon

Select Date, Select Court, Select Time & Click "Book Now"

---
Group Fitness Passes & Classes
Click on Purchase a Group Fitness Pass

Select which pass is right for you, more information about each class can be found on MyRec

Once you have purchased a Group Fitness Pass you may register for a Group Fitness Class

Select which instance you want to register for, Note: Most classes may only show the instances up to three days in advance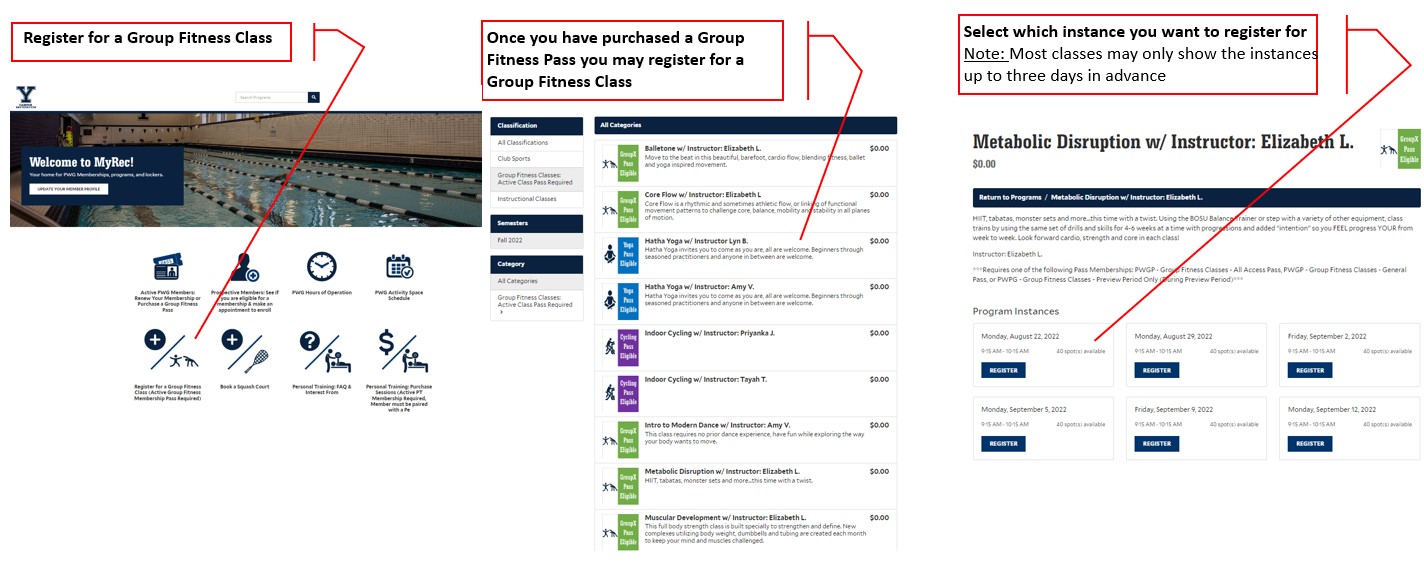 ---
Members may only purchase Personal Training Sessions after they have completed the interest form and been assigned a Personal Trainer. Click Here for more information on Personal Training.
Click on Purchase Personal Training Sessions

Select the package to purchase

Follow the steps to purchase
---
---
Sign Up for Mobile Notifications
Did you know you can receive notifications from Yale Campus Recreation thru our mobile app?
PWG Closings & Adjusted Hours

Adjusted Pool Hours & Emergency Closings

Adjusted Squash Center Hours
Download the Yale Rec App
Step 1: In the Yale Rec App, click on the three bars.
Step 2: Click on Notifications
Step 3: Click on which notification you would like to receive.
General: PWG Closures & Adjusted Schedules
(You may need to click on Notification Settings to adjust your personal preferences, i.e. banner, sounds, badge, etc.